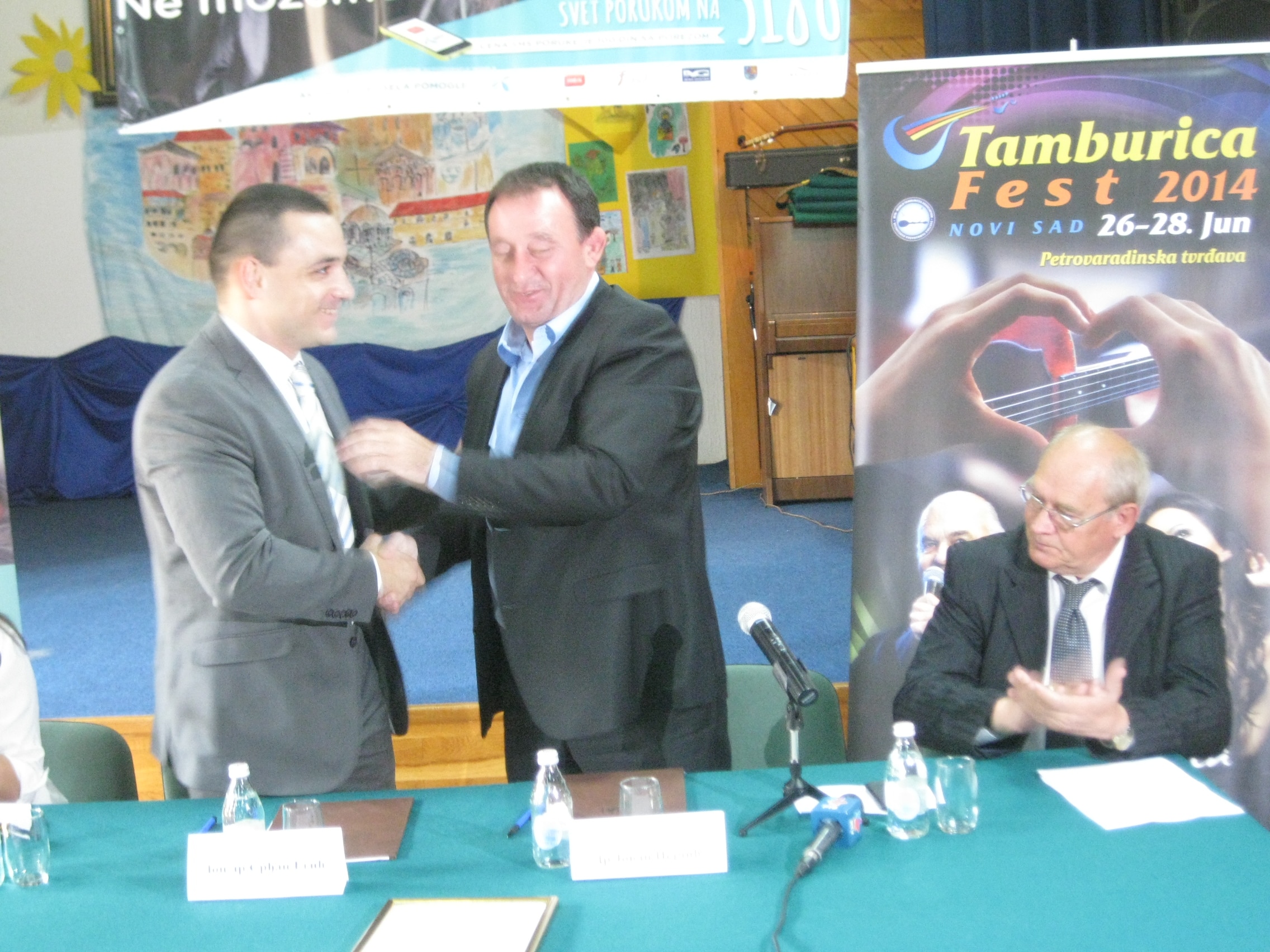 "Tamburitza fest" on 39th birthday of "Decije Selo" in Sremska Kamenica
Symbolically signature on memorandum about cooperation of "Tamburitza Fest" and "Decije sos selo – dr. Milorad Pavlovic", today in Sremska Kamenica, this is continuation of long term friendship of "Tamburitza Fest" organization and proteges of institution for children with out of parent welfare. Contract is signed on 39th anniversary of successful existance of "Decije Selo" by head manager dr Srdjan Egic and dr Jovan Pejcic- president of Organization committee of "Tamburitza fest" with intent to promote joint project of cultural,educational and entertaining purpose.
"Tamburitza Fest" is long term friend of our organization "Decije Selo", and helped us with amazing donation of 800000 dinars. This donation enabled our children summer vacation. We are proud that festival with its own mission of maintaining tradition, preservation of heritage and with its own worth as a festival is overcame city limits, state borders and region is always standing with us and for us – underlined by dr. Egic, who gave plaquet "Deciji osmeh" as a gratitude to dr.Pejcic.
Dr.Pejcic as president of Organization committee of "Tamburitza fest" emphasize satisfaction and joy to help prosperity of institution "Decije selo" and that "Tamburitza fest" will use all its humanitarian potential to promote charity action named "Help Now" that is imagined to help organization of "Decije Selo" with sending sms on 5186.
"Tamburitza Fest" have significant place in world, huge media support and from 26th to 28th june on Petrovaradin fortress, where we expect numerous visitors, participants,bands and main stars of festival will urge guest and audience to send this humanitarian sms on 5186. This urge will happened while live broadcast in Serbia,region and on satelite chanels explained dr. Pejcic and called all people to take personal more direct actions and with dr. Egic and dr. Branko Vidicki-chairman administrative committee of "Decije selo", sent together sms on 5186.
on photos below are dr.Srdjan Egic, dr.Jovan Pejcic and dr. Branko Vidicki.