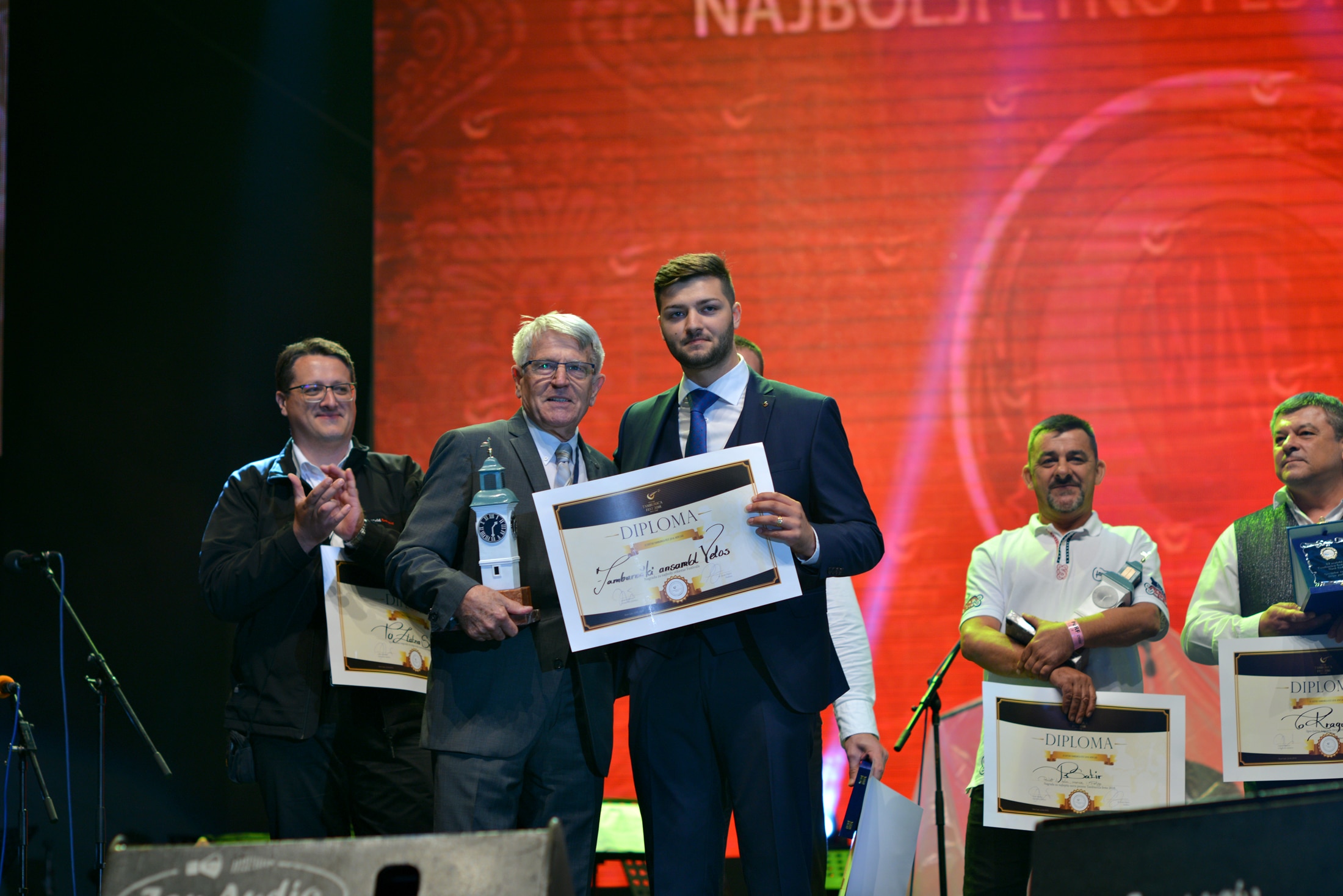 AFTER THE RAIN – A SHOWER OF AWARDS
DAY THREE:  Presentation of awards for the best participants in the competitive part and an amazing concert by Marija Šerifović in the non-competitive part of the festival 
On the third night of the festival, the awards were presented in the competitive part of the festival. 
Tamburitza Band Velos received the award for The Best Festival Orchestra and the best new song was Prodat ću kola, vrance i polja performed by the Tamburitza Band Satir. 
Zlatko Galik of Tamburitza Players Rubato was awarded as The Best Prim Player, and Miloš Jovanović of Tamburitza Band Velos as The Best Basprim Player.
The award for The Best Begeš Player was presented to Miroslav Adašević of Tamburitza Orchestra Sremska banda. 
The Special Award for nurturing the tamburitza tradition was given to Tamburitza Orchestra Zlatna suza. Town Tamburitza Orchestra Pljevlja received the award for The Best Interpretation. 
The solo singer Joseph Joe Kirin of Tamburitza Orchestra Sremska banda was The Best Solo Singer of the festival, and The Special Award of the Audience Jury was presented to the Tamburitza Orchestra Kraguji.
On behalf of Tamburitza Fest, the diplomas and the special Petrovaradin clock tower statuettes were presented by Jovana Pejčić, the music editor of the festival Danilo Ninković, the president of the professional jury Mr. Franjo Batorek, the President of the Managing Board of NS Seme Prof. Bogdan Kuzmanović, PhD, and the Art Director of the festival Jovan Adamov.
While the awarded participants took photos with the audience and colleagues, Marija Šerifović, our only Eurovision Song Contest winner, began her concert with the song Pametna i luda, and proceeded to tell the audience:  
"If only we had more festivals like this one! I would like to congratulate the organizers on their 11thfestival and wish them many more festivals in the years to come!"
Hits such as Sama i nervozna, U Nedelju, Deo Prošlosti, Ti možeš sve resonated throughout the Petrovaradin fortress, and another night at Tamburitza Fest went by without rain and clouds and ended with songs, music, and a roaring applause of thousands of visitors.