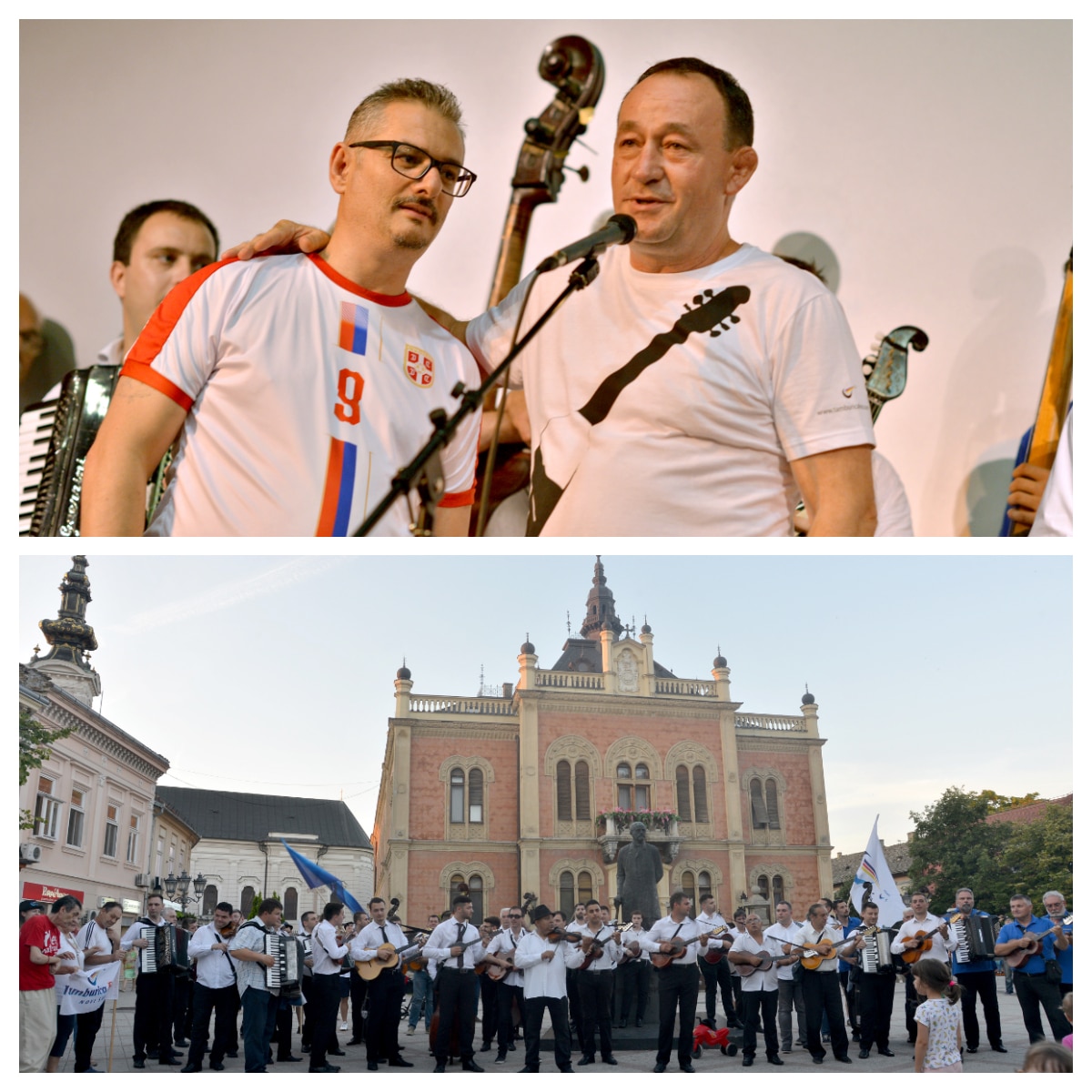 11th TAMBURITZA FEST OPENED WITH THE FILM TAMBURITZA THE SOUND OF A LANDSCAPE
Starring: Bajaga, Bane Krstić, Zvonko Bogdan, Radoslav Milenković…
Director Sali Saliji – Sallini: "Tamburitza Fest – this is a great honor for me."
11th World Tamburitza Fest was opened with the premiere of Tamburitza the Sound of a Landscape directed by Sali Saliji – Sallini, a Turkish director originally from Serbia, who attended the premiere of his film at the Cultural Center of Novi Sad. 
–

 
"It is a great honor to have

 
Tamburitza the Sound of a Landscape
 

open such a large-scale festival", said

 
Sali Saliji – Sallini
,
adding that he had been working on this film for two whole years.
Many famous people, artists, actors and musicians were a part of this three-part documentary, in which they talked about Vojvodina, the magic of the tamburitza as an instrument, and finally about the greatest master of schlager music – Zvonko Bogdan. 
"Not many people know that Zvonko Bogdan wrote many of the songs he sings.  His decision to cover the song I wrote and sang with Saša Lošić for the TV series Vratiće se rode (The Storks Will Return) was a great honor for me as it would be for any musician – to be asked by Zvonko Bogdan if he can sing your song", said Momčilo Bajagić Bajaga, remembering in the film how surprised he was with the popularity of the song Vratiće se rode. According to him, this might be his song that best describes the sound of the landscape depicted in the film. 
Bane Krstić, a famous singer-songwriter from Vojvodina, was among the people interviewed for this documentary. He talked about tamburitza, music and the plain. 
"Vojvodina seems like a flat sheet. But it's not.  It's full of life, the home of twenty six nations. There are just as many cultures, which is why Vojvodina is characterized by the art of both social and cultural interaction", said the founder of Garavi Sokak, who also expressed that he is proud of the fact that Zvonko Bogdan, among others, sang his song Ko te ima taj te nema.
"When I wrote that song, I was going through the most difficult period of my life. I wrote the chorus in five minutes, but the verses took me three months to finish. There were fifty four versions of the verses, but only the final three survived.  People said to me: 'Don't sing that, that's philosophy and people don't like that', but look at it now…Everyone knows that song, and if Zvonko Bogdan hadn't sung it, this song would never become such a hit adored by many", said Bane Krstić.
Other ethnomusicologists, music editors, actors and professors of music talked about that famous sound of tamburitza which is usually associated with this region and so perfectly captures the happiness, sadness and day-to-day life in Vojvodina. 
"That's why it is important for our tamburitza songs to be polite and modest", concluded Zvonko Bogdan, who would perform at Tamburitza Fest with his tamburitza orchestra the following day on the Petrovaradin fortress. 
The documentary Tamburitza the Sound of a Landscape premiered in Novi Sad, and the goal is for this film to be shown at many documentary film festivals in the region in order to promote Vojvodina, tamburitza and the music created by this magical instrument in the best light possible.